STOP Lets Talk About The Home Buying Process
STOP! Let's talk about the home buying process…
What an exciting time when you realize you are at the point in your life to buy a house! You have worked hard, saved money, acquired acceptable credit, and are now ready to become a homeowner! STOP!! Let's talk about the home buying process.
First, congratulations! You are about to take steps to become one of the approximate 64% of Americans that own their own home.
Please don't just rush out and start looking at homes. You will fall in love with a house that you can't afford or one that does not qualify for the type of loan you need, and you will end up overwhelmed and frustrated. There is a process to home buying and if you follow the process, your home buying experience will be a joyful and smooth and you will end up with the right house for you, your budget and needs.
First, select a good, reputable and qualified REALTOR®. That does not mean just calling the first name or number you see on a sign. Talk to friends, family and co-workers and find out if they have worked with a Realtor who they would recommend? Do your homework and choose your Realtor wisely. Your Realtor will be a very important part of the process. Is the Realtor a full-time or part-time Realtor? Will they be available when you need? Does the Realtor know and regularly work the area you will be looking in? All of these are important to consider to ensure you get the best representation. Did you know that in most cases, the Buyer does not pay for their Realtor? The Realtor's are paid from the commission, which is normally at the sellers cost. As a Buyer, you get representation at no out of pocket cost. Take advantage of this, hire a good Realtor!
Once you select a Realtor, meet with him/her to talk about your needs, your expectations and how the process works. At McGeeScott Realty, we call this a Buyer Consult. A Buyer Consult allows you to get to know your Realtor and ensures that your Realtor is aware of what you need and want. Think about it, how can your Realtor assist in finding the right property for you if they don't have a good idea of what you need or want?
The next step is to get pre-approved. Your lender/loan officer will be an important part of the process, so just like your Realtor choose wisely. Talk to your Realtor, your family, friends and co-workers and make an informed decision. I highly recommend you make sure your lender has a local office with a local contact.
Your lender will have you complete an application, run your credit, gather preliminary documents to determine how much house you can afford to buy, how much money you will need for down payment and closing costs, and what type of loan you qualify for. I can write an entire blog on just this topic, but I'll do my best to give a quick summary here.
There are four main types of fixed rate mortgage loans: Conventional, RD (Rural Development), FHA (Federal Housing Administration) and VA (Veterans Affairs). Conventional loans are typically for buyers that have a higher credit score. The down payment needed on a conventional loan normally ranges from 5% to 20%, depending on several factors. RD loans provide 100% financing (-0- down payment) but you will have closing costs to pay along with making sure your potential home qualifies with its location and condition. There is also an income limit on a RD loan. FHA is known as the first-time buyers' loan but you do not have to be a first-time homebuyer. You can qualify for a FHA loan as long as you don't have an existing FHA mortgage loan. FHA requires a 3.5% down payment plus closing costs and, like RD, the house must be in a certain condition. VA loans are for Veterans or active military (with some conditions). VA loans provide 100% financing (-0- down payment). You will have closing costs and the house must be in a certain condition. Your lender will assist you in selecting the best loan based on your credit and circumstances.
At this point you have a Realtor who knows what you want and is looking out for you and your best interest (that Buyer Consult is worth it!) and you have a Lender that has properly pre-qualified you and you now know what you can afford and what it will cost to buy. Now the fun, start looking! Your Realtor can show you any listed home, even if listed with another real estate company or agent, and in most cases, can even show and assist you with unlisted properties such as For Sale By Owner (FSBO) properties. I suggest that you always ride by a house before scheduling an appointment, check out the exterior, the neighborhood, etc. If you still like it after riding by, get with your Realtor to schedule an appointment to view it. There is no certain number of homes you need to see before you find "the one". Some buyers look at 20+ homes, some 10+ and some only one!! You will know when you have found the right house, that fits your needs.
Once you find "the one", you will make a written offer on the property (verbal offers are not valid in real estate), your Realtor will assist you with this and all of the documents associated with it and negotiate for you. If you and the seller can reach an agreement, you will enter into a contract to buy a house! This is exciting but don't break out the champagne just yet.
You now move into your inspection and due diligence period. Depending on your contract terms, it is normally between 7-12 calendar days, this is your time to get to know the house - the good, the bad and the ugly. The buyer is responsible for the inspections and the cost of the inspections. Please do not dismiss the inspection and due diligence period - it is a very important part of the process. You are about to spend thousands of dollars and make likely one of the biggest purchases of your life. I suggest you hire a professional home inspector. A professional home inspector will inspect every accessible aspect and component of the home. He/she will provide you with a written report outlining all the defects. The report will likely be categorized by minor to major defects. If not anything, the report becomes a great "honey do list" for you once you move in. If the home inspector encounters an issue out of his/her scope that needs more investigating, he/she will refer you to the professional in that field. Don't skimp on this either, get the professionals out, do your best to know what you are buying. Once inspections are done and within your inspection period, you can request the seller remedy and/or repair any items that were found and that you find concern with. I always advise my clients that no home is perfect and every home will have defects and issues. As a buyer, you will need to determine which defects and/or issues are most important to you and request that the seller repair and/or remedy those items or reduce the sales price in lieu of repairs. I have seen too many buyers provide the seller with the entire inspection report and ask for it all to be done, I guarantee you this will kill the deal 95% of the time. The only exception to this can be new construction since new construction should normally be delivered in a brand-new condition. It is important to know that if the items you find during the inspection and due diligence period are not acceptable to you or if you and the seller cannot reach an agreement as to repairs/remedies, as a Buyer you can cancel the contract, assuming you back out within your inspection period.
Now that you have made it through inspections, your lender will order the appraisal. The appraiser will go out to the property to confirm value and depending on your loan type, the appraiser may also inspect the property to make sure the home's condition qualifies for the type of loan you are getting. If the house appraises for at least the sales price and the homes condition qualifies for the loan type, the contract will continue to move forward.
After appraisal, the lender will finalize the loan documents and order the title work with an attorney/title company. The attorney/title company will run title on the property to ensure that when you buy you will end up with 100% ownership. Immovable property is not like movable property, there is no "title", the title on immovable property is a chain of title filed with the Clerk of Court in the parish the property is located in. The attorney/title company will go back at least 30-years and verify that every time the property transferred ownership, it was properly done, and all owners transferred ownership. Once the title work is complete and the lender has received final loan approval, it will be time to schedule the closing.
The closing normally happens at the attorney's office. You will likely sit at a table with your Realtor, the Sellers, the Seller's Realtor, your Lender and the attorney/notary. The cash sale will be signed by all parties transferring ownership and the mortgage loan documents will be signed to put the mortgage in place. Once all of these are signed, you are a homeowner!!
Now you can break out the champagne and celebrate!! You have just made an investment in your future and now own a piece of earth to call and make your own.
Thanks for taking the time to read this blog! I hope you found it informative. If you have any questions or want to schedule a Buyer Consult, contact the professional, full-time Realtors at McGeeScott Realty at 337-369-0600 or 337-735-4040.
More to come from McGeeScott Realty covering all aspects of real estate and Acadiana.
"Owning a home is a keystone of wealth…both financial affluence and emotional security." – Suze Orman, Financial Advisor/Guru and Host of Suze Orman Show
Angela Scott
Co-Broker/Co-Owner of McGeeScott Realty
#mcgeescottsells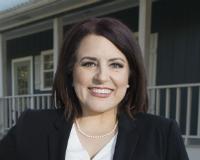 Author:
Angela Scott
Phone:
337-380-6530
Dated:
January 24th 2018
Views:
1,441
About Angela: ...